Need your concrete repaired in the Wichita area? You've come to the right place.
The benefits of Foam Lifting?
What are the benefits of polyurethane?
We are the best concrete leveling company in South Central Kansas. We can level your uneven sidewalks, garage floor, driveway, patio, entrance steps, pool deck, a/c pad and more. Why replace it when we can level it? Call us today for your FREE estimate & inspection!
For more information on our concrete crack filler, contact our concrete leveling team in Wichita today!
Customers save up to 50% from traditional demolition and pouring new concrete.
Polyurethane concrete raising drills a 3/8 inch hole and the process calls for considerably fewer holes than traditional mudjacking. Mudjacking uses a much larger hole (1″+) which can weaken the concrete and is more noticeable. Our concrete leveling team in Wichita uses concrete crack filler to fix uneven surfaces.
The initial reaction time is 8 seconds. And it is 90% cured within 15 minutes. By the time we are done, it is useable. In most cases, the job is done the same day.
Ready to use immediately! You can drive on, walk on, and play on it the same day!
Our concrete leveling team in Wichita uses a crack filler that is strong, light weight and dense.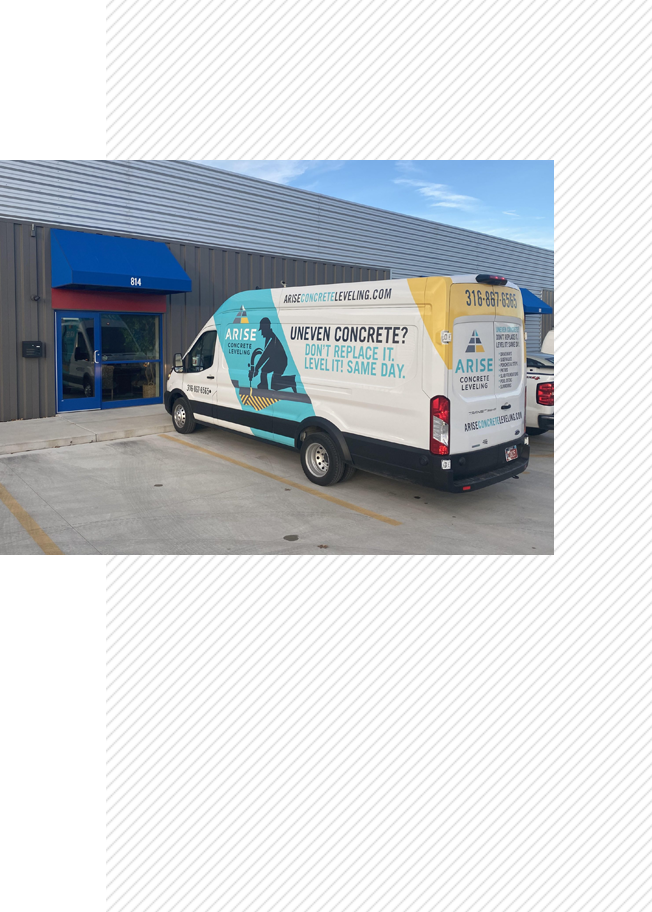 The foam will find a path to fill in all gaps and voided areas under concrete. This structural grade lifting blend is designed to support 7,200 lbs per cubic foot.
The foam is not weakened by moisture or chemicals found in soil. It bonds with wet soils and concrete, and will not re-settle once it has been applied.
Our Wichita-based concrete leveling team uses a crack filler that will retain its structure and strength reducing the possibility of new gaps or settlement.
The foam seeks out weak soils and voids during expansion, creating a strong and denser base.
HMI foam is the top-of-the-line eco friendly material. It is an inert material that is self contained and does not leach. Every time concrete is raised, we are saving concrete slabs from landfills by raising versus replacing concrete!
We are a family owned company
We are a family owned company in Wichita. Our team is dedicated to
providing cost effective repair solutions to home and business owners in the South Central Kansas area with settled concrete or soil stabilization problems. We offer state of the art technology to meet our customers' needs by utilizing the best tools and materials available. We work hard to give our customers a great value and produce long lasting results. It is our goal to exceed expectations and industry standards.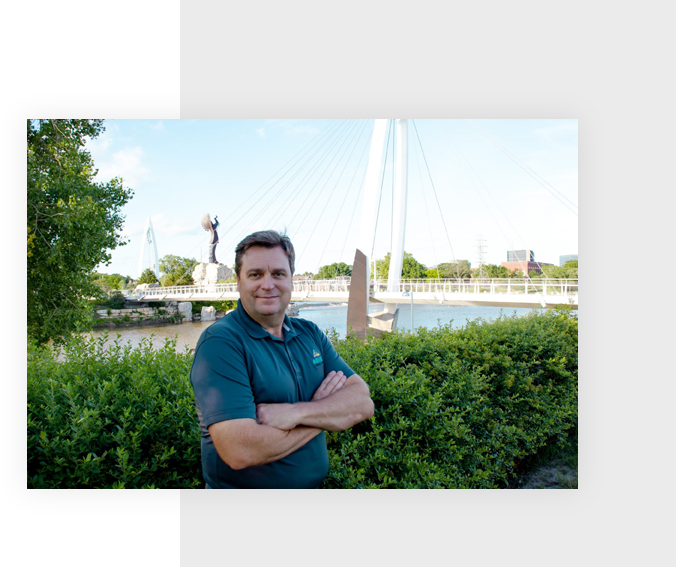 DON'T REPLACE IT.LEVEL IT! THE SAME DAY.