Commercial and Industrial Concrete Repair
Need your concrete repaired in the Wichita area? You've come to the right place.
No matter what problem you're facing with your cracked concrete, Arise Concrete Leveling is here to provide the solution. We provide fast, hassle-free service that delivers on-time work and competitive pricing.
We love a good challenge, and when it comes to concrete, we know what it takes. If the concrete doesn't rise immediately, we know that this is just a stubborn slab of concrete and we stay on it until we get the desired result. Some competitors won't even look at difficult jobs, these are the ones we love. We use the best mechanical devices, methods and materials to get the job done right.
Site-specific solutions are a major part of our business. We work tirelessly to meet and exceed the challenges of every site, and promptly adapt to new situations to ensure a successful outcome.
Responsive
Exceed Expectations & Industry Standards
Level sunken or settled concrete
Concrete Lifting and Leveling
If your slab is sunken or settled, there's no need to worry. We're proud to offer this innovative solution that will have your slab back to its original glory in no time! The sunken or settled concrete slab is lifted by drilling 3/8″ holes in the slab and pumping structural grade polyurethane foam material under the slab. The voids are then filled, allowing the slab to be raised and supported. The holes are patched with grout, doing our best to match your concrete. The foam cures within 15 minutes and can be used immediately.
Apartment Buildings
Industrial Buildings
Parking Garages
Warehouse Floors
HVAC Slabs
Loading Ramps
Silos
Installing caulking on your concrete is the number one way to prolong the life of any concrete slab. Cracks in the concrete are a major problem, allowing water to flow down beneath the surface. This leads to erosion of the soil and sunken or settled concrete as pressure increases on unsupported slab. The best way to prevent this is by caulking your concrete with crack filler for all lifting and leveling projects.
Commercial Grade
Sealants
Flexible
Long Lasting
Prolong the life of your concrete
We are a family owned company
We are a family owned company in Wichita. Our team is dedicated to
providing cost effective repair solutions to home and business owners in the South Central Kansas area with settled concrete or soil stabilization problems. We offer state of the art technology to meet our customers' needs by utilizing the best tools and materials available. We work hard to give our customers a great value and produce long lasting results. It is our goal to exceed expectations and industry standards.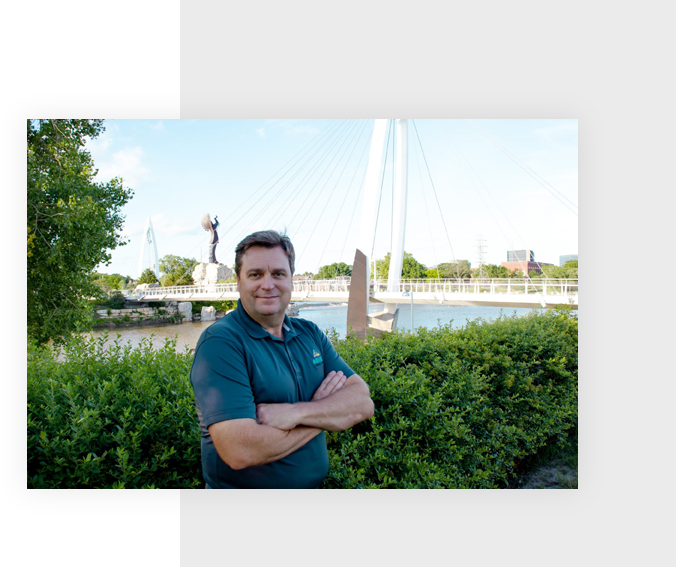 DON'T REPLACE IT.LEVEL IT! THE SAME DAY.