Concrete Leveling Andover KS
Arise Concrete Leveling is the leading concrete lifting and repair company in Andover, KS. We have a team of experienced professionals who can lift and level your concrete quickly and effectively, ensuring that it is restored to its former glory.
Fix Your Concrete Problems Fast and Efficiently
Concrete leveling is an important part of concrete repair. If concrete is not leveled correctly, it can lead to serious problems down the road. That's why it's important to call a professional concrete leveling company as soon as you notice any issues.
At Arise Concrete Leveling, we have years of experience leveling concrete for both commercial and residential customers. We use the latest techniques and equipment to get the job done quickly and efficiently.
Whether you need concrete lifting for a new construction project or concrete repair for an existing structure, we can help. We also offer industrial concrete repair services. No matter what your concrete needs are, we have you covered.
Commercial And Industrial Concrete Repair
Services In Andover, KS
If you're in need of concrete leveling or concrete repair services, look no further than Arise Concrete Leveling. We specialize in both commercial and industrial concrete repair, so no matter the size or scope of your project, we have the experience and expertise to get the job done right.
When it comes to concrete repair, we understand that time is of the essence. That's why we offer fast, efficient service that will minimize disruptions to your business or home. We also offer a variety of concrete leveling services to ensure that your concrete is level and even, providing a safe and level surface for you to enjoy.
If you're in Andover, KS, or the surrounding areas and in need of concrete repair or concrete leveling services, contact Arise Concrete Leveling today. We'll be happy to provide you with a free estimate and get started on your project right away.
We Fix Concrete Problems Fast
At Arise Concrete Leveling, we fix concrete problems fast. We are experts in concrete lifting and concrete repair, and we have years of experience in both commercial concrete repair and industrial concrete repair. We serve the Andover, KS area, and we are committed to providing the best possible service to our customers.
We will be happy to assess the situation and give you a free estimate. We are confident that we can solve your concrete problem quickly and efficiently, and we will do our best to exceed your expectations.
Why Choose Arise Concrete Leveling?
Arise Concrete Leveling is the concrete repair specialist that can handle any concrete repair job – no matter how big or small. We have extensive experience in concrete lifting, concrete leveling, and all other types of concrete repair work.
We serve both commercial and residential customers in Andover, KS, and the surrounding areas. No concrete repair job is too big or small for us to handle. We have the skills, experience, and equipment to get the job done right the first time. When you choose Arise Concrete Leveling, you can rest assured that your concrete repair job will be done correctly, on time, and on budget.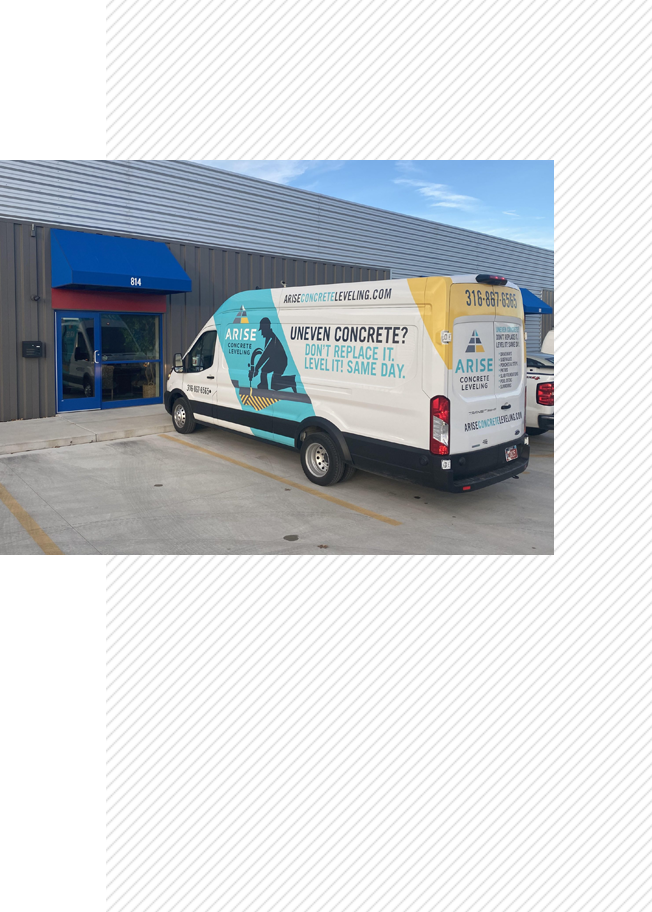 What Customer Says About Us
We are a family owned company
We are a family owned company in Wichita. Our team is dedicated to
providing cost effective repair solutions to home and business owners in the South Central Kansas area with settled concrete or soil stabilization problems. We offer state of the art technology to meet our customers' needs by utilizing the best tools and materials available. We work hard to give our customers a great value and produce long lasting results. It is our goal to exceed expectations and industry standards.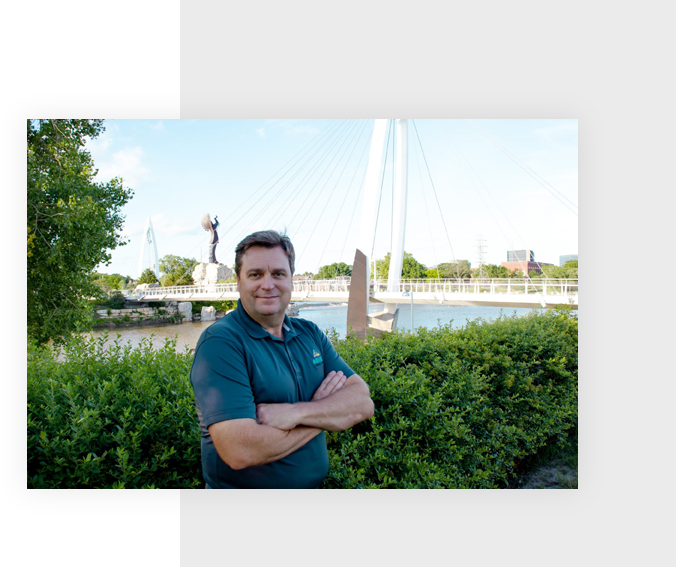 DON'T REPLACE IT.LEVEL IT! THE SAME DAY.